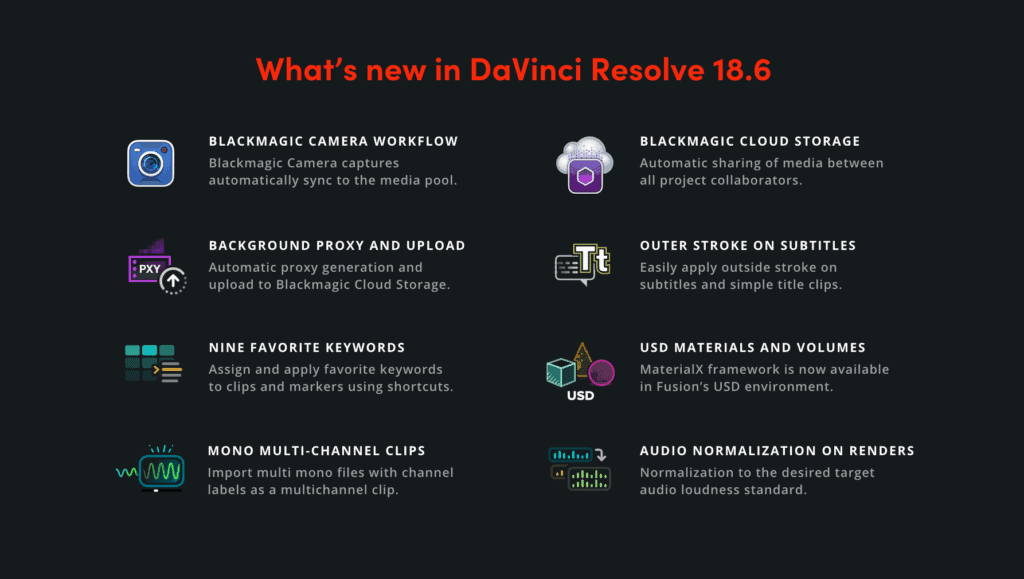 A new update was just released that looks like it has plenty of bug fixes and enhancements.
I've seen quite a few bugs from users in various forums and there are plenty of fixes listed below, so I'm hopeful that most of the bugs have been squashed and stability is production-ready for most users.
One of the previous limitations of the new Blackmagic Cloud Storage sync was that your media could not download to a networked drive. Well now you can! This is great news for anyone who relies on a NAS or Blackmagic Cloud Store device.
You can also prevent your computer from going to sleep when creating proxies or syncing media, in case you don't have an OS setting activated that keeps your computer on.
There's also some handy features like using proxies for web renders, customizing Dolby Vision project resolutions, ACEScg support in Resolve Color Management, and a new layout for the keyword manager.
From Blackmagic Design:
Today we announced DaVinci Resolve 18.6.3 update which adds support to sync media from network folders for cloud projects. This means the project owner can now sync between their Blackmagic Cloud Store and any network attached storage drive or folder, allowing cloud workflows on high end projects that use large amounts of shared storage. There is also a new option to prevent sleep mode while uploading files or generating proxies so these functions can continue uninterrupted regardless of your computer's settings.

DaVinci Resolve 18.6.3 update also adds support for a new dialog menu that appears when importing projects to a cloud project library. This means that you will be prompted to configure project settings such as media and proxy storage location at the start of your import, making sure your project is correctly structured from the beginning.

When it comes to delivering your project, you now have the option to select proxy media rather than camera originals for web presets, saving you unnecessary processing and speeding up your delivery workflow. There is also added support for decoding 4:2:2 HEIF and HIF clips, allowing you to use much higher quality footage shot on smartphones.

This software update also adds a number of stability improvements, including improved popup window management and control for Macs running Sonoma 14.1, better transition deletion when working with clips that have in and out ranges applied and improved speed performance when ripple editing large timelines. There is also better handling of saturation for HDR images when using custom curve soft clip and for DaVinci Resolve Studio, improved audio syncing when bouncing audio with voice isolation.
As always, be sure to back up your project library before updating.
For details, downloads, and update instructions, visit the Blackmagic Design Support Page.
What's new in DaVinci Resolve 18.6.3
Support for syncing media from network folders for cloud projects.
Option to prevent sleep when uploading files or generating proxy for cloud.
Configuration dialog when importing projects to a cloud project library.
Cloud projects with no media sync now use proxy settings in preferences.
Deliver settings option to use proxy media for web presets.
Support for per output audio normalization during renders.
ACEScg support in RCM with combined gamut and gamma mode.
Support for decoding 4:2:2 HEIF and HIF clips.
Ability to close the current project from the file menu.
Ability to customize aspect ratio for Dolby Vision exports.
Improved sort order for Dolby Vision combo boxes.
Improved handling of inactive clients in collaboration projects.
Addressed an issue with copying projects across cloud libraries.
Addressed an issue changing source folder for clips with proxies.
Addressed a windowing issue on Macs with Sonoma 14.1.
Addressed an issue displaying flags on thumbnails of video only media.
Addressed restoring active local version when restoring removed media.
Addressed image quality issues with scene cut detected interlaced clips.
Addressed an issue with opening the take selector on retimed clips.
Addressed an issue changing speed for unlinked audio in the inspector.
Addressed an issue with deleting transitions with an in out range in edit.
Addressed a performance issue when ripple editing large timelines.
Addressed an issue with color picker in Resolve FX 3D keyer in edit.
Addressed gaps when ripple deleting interlaced clips with frame alignment.
Addressed multiple tracking and drawing issues for magic mask in Fusion.
Improved speed of transforming objects with MaterialX materials in Fusion.
Copying grade with mattes now prioritizes layer name over index.
Addressed incorrect saturation with HDR custom curve soft clipping.
Addressed power window flicker in dual SDI stereoscopic 3D previews.
Addressed gamut limiting issues on ACES ODTs with a P3 D65 gamut.
Addressed an issue with power bin timeline matte usage on node graph.
Pasted HDR Vivid trim presets now honor the selected mode.
Addressed an issue creating new HDR zones in the color page.
Addressed an audio sync issue when bouncing audio with voice isolation.
Addressed an issue with the arrange modifier in the Fairlight timeline.
Improved keyword manager layout.
General performance and stability improvements.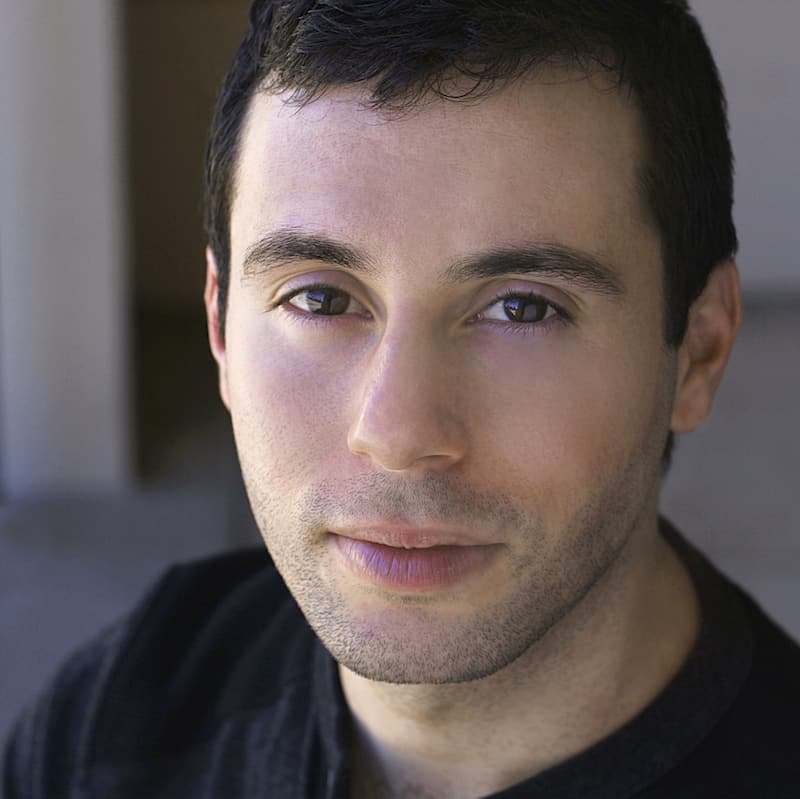 Gedaly is the Managing Editor of DVResolve.com and a Blackmagic Design Certified Trainer. He's edited commercials for major brands and has done color & VFX for independent films. He consults on post-production workflow and creating online education. Gedaly is the co-founder of Working.Actor, a former marketing manager for large brands, and creates original film projects with his production company Razee.